1.Identify Best Social Media Marketing Channels for Your Startup
What you need to identify at first is 'What are the best social media marketing channels for my startup'. You can't have an answer to this question without trying out the best social media channels which generate a positive impact on businesses such as Facebook, LinkedIn, Youtube, Pinterest, Instagram, and Twitter.
Along with the abovementioned major social media platforms for business, there are niche specific platforms. These channels would be specific to your brand or industry. Some examples are Inbound.org, GrowthHackers.com, Dribbble, or Ravelry.
Before pursuing any network what you need to determine is where your startup's related audience exists.
Shortlist at most four to five social media marketing channels where you find an audience which might be interested in your product or service, then carry out campaigns on each platform to identify the best ones for your startup.
2.Focus on Target Market
You have to hit the right zones of the right audience to extract some sales. Facebook's target audience feature is the best when it comes to market your startup to the right people.
Facebook offers the option to market using attributes such as interests, age, behavior, area, country and bio's, related to your startup's niche. Targeting your audience will not only make your startup earn a great reputation but it will also ease out the data collection process of people interested in your startup and brand recall.
3. Do Live Video Streamings
According to a visual content marketing statistics report for 2018, Live videos on Facebook have an engagement rate of 4.3% compared to 2.2% for non-live videos (source: telescope.tv). Following this fact, it is essential to include live streaming videos in your social media strategy.
Live Video streaming has gained immense popularity in the past year and it helps startups to directly interact with their audience without any obstacle in between. In this way, you can gather live reviews and comments from your customers that also builds the trust of people on your offered service or product. Keeping all these good gestures in mind, live streaming should be at the top of your priority list when it comes to being novel on social media for startup.
4.Create Visually Attractive Content
With over 300 million photos uploaded daily on Facebook, it is you who needs to market your startup in a way that your content including pictures and videos catches the eye of your target audience.
Your content should be visually engaging, creative, and pleasing in order to achieve your objective. It's all about representing your startup graphically and enticing your customers to click on your advertisement(s).
5.Capitalize on What's Trending
Facebook and Twitter provide you with complete insights regarding the top trends on social media. Use this information to make social media marketing plan for your startup. You need to keep an eye on all the latest trends and see which one you can capitalize according to your brand.
You can use hashtags that are always in the trend, or you can make your own personalized hashtags to promote your social media marketing campaign. You can even capitalize on certain events, like the recent Valentine's Day, or Christmas, to market your startup. Hashtags are a great way to be in the news and making a mark on the market accordingly.
6.Market Your Startup Through Snap Stories
Over 100 million Snapchat users watch approximately 10 billion videos daily and your startup can be a part of these snaps too. Snap stories is a creative way of marketing your startup instantly to this huge number of audience.
Image Source: TechCrunch
A short-term story based video is what pulls people towards this application by applying Geo-filters on your story. You can use your brand name on it for as low as $5. In this way, you can market your startup's culture, story, product etc. You can have a look at this awesome piece on how to run great influencer campaigns on Snapchat.
7.Focus on Mobile Marketing
It's 2019 and people use social media more on mobile than their desktop, hence your social media posts must be mobile-focused.
Brands have carried out really interesting and engaging mobile-focused social media campaigns and it has really created a large impact on their brand mentions and engagements.
Instagram Ecommerce Marketing Hacks To Get Your Business To the Next Level
8. Take Advantage of Artificial Intelligence
Artificial intelligence (AI) is also proven to be an impactful part of a social media marketing plan. You can save both manpower and time which you can utilize in other useful tasks.
AI can be really effective when it is used on social media to perform tasks like content creation, content optimization, social media monitoring, and posting, finding relevant influencers and the most importantly getting consumer/audience data.
9. Use Virtual Reality
June 2016 was the time when Facebook started supporting 360 videos, photos, and since then, Virtual Reality has taken the social media by storm. VR and Augmented Reality is a totally unique and exciting experience for users and you can market your startup by creating real impressions.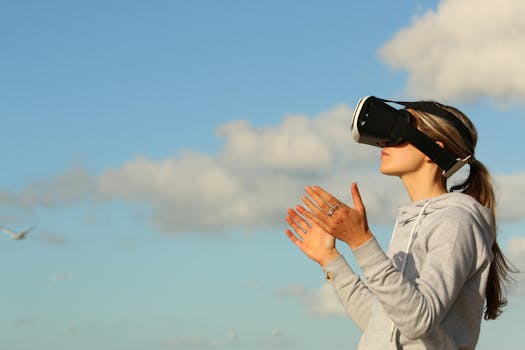 Source: Pexel
You can always create a buzz on the internet by creating a Virtual Reality based social media marketing for startup. Have a product? You can create a real augmented experience for your product and show your offering to your audience.
10. Start Tracking Your Data
You should always keep a close look at your content's social metrics about how much engagement, impressions, views and reach it is creating. Another thing to consider is the time to post. There are certain times when an audience isn't really active on social media and you should avoid posting your content at that time.
If you have a regular look at your startup's social media metrics, you will understand the do's and don'ts of your startup's social media marketing strategy. Simply, by analyzing your data, you can decide what, when and for how long a content should be posted.
Make Sense of Data with Big Data Marketing Automation for Your Business
11. Make a Content Publishing Calendar
A publishing calendar helps you schedule your content effectively. It keeps your online presence organized and allows you to focus on important tasks like maximizing reach and avoid repeating content.
With a content calendar, work becomes simpler and you can easily repurpose your content for different social platforms. You won't have to post in real-time and can gain control over the timing of your content. In this way, you will get more time to get productive and maximize engagement on different posts.
Red Bull, for instance, is a company that sells energy drinks. They publish a lot of high-quality content over social media and maintain an impressive content calendar. They post nearly 9-11 times on Facebook and 7-8 times on Instagram in one day. Their content calendar helps them decide which type of content rolls out on which type of social platform as the audiences vary from channel to channel.
12. Create Engaging Posts
Increased engagement means your content is appealing to your audience. When you engage with a customer appropriately, it will pay off at the checkout cart. Engaging posts can contain content, graphics, or video, however, make sure the content is high quality. It provides great value in return.
You can make engaging posts by simply adding a question, a fill in the blank, quotes, wishes, offers, giveaways, an interesting challenge, picture or a video.
Post on the best time and ensure to place a clear and attractive call-to-action (CTA). Cleverly use relevant hashtags in your content with easy instructions to follow. At the end of the day, the more quality content you offer to your customers, the more likely they will positively engage with your brand.
13. Leverage Influencer Marketing
Besides ad campaigns, influencer marketing can also help you drive insane ROI. Building relationships with industry's leading social media influencers allow your brand to reach a wider audience and garner significant recognition.
The voice of a social media influencer is powerful. You can run promotional campaigns with them and tap into their hyper-engaged audience.
As one-third of Twitter audiences follow and engage with social media celebrities and influencers, you have the best chance to achieve boost if they endorse or review your product on their official account.
14. A/B Test Your Campaigns
A/B Testing or Split Testing simply means experimenting with two different approaches in order to complete a task. You need to find out which strategy works best between the two variations. It can help you increase your sales sharply.
For instance, Electronic Arts sold 1.1 million copies of SimCity5, one of their most popular games in just two weeks after its launch. To increase their sales, they introduced a pre-order offer and placed it as a banner on their website.
Turns out, the promotion was not driving results as per their expectation. They decided to come up with a few variations. One variation removed the promotional offer altogether. To their surprise, the variation without the offer increased their sales by 43.4%. People simply wanted to buy the game with no additional incentives necessary.
With an ease of analysis, you can increase your conversions and achieve your business goals effectively. Find an ideal combination for your customers that not only provides a better experience but also that breeds trust and confidence in your brand.
15. Share Coupon and Sweepstakes
Give your customers more reasons to follow your brand. Yes, great content is important but exclusive coupons, giveaways, discounts, and promotions on your website can get potential customers to become enthusiastic promoters of your brand. It's a fact that 79% of Facebook users engage with brands that offer interesting coupons or discounts.